Varieties
Russet Norkotah
Is an early-maturing potato released in 1987 by North Dakota State University. It is primarily a fresh market potato with good boiling and baking qualities. Tubers are white flesh, long to slightly oblong with medium to heavy russeted skin. Eyes are shallow, numerous and well distributed.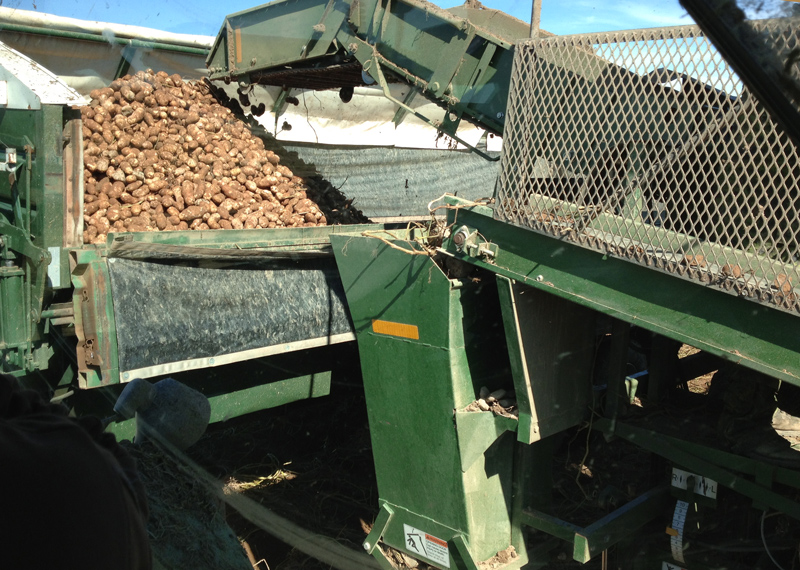 Russet Burbank or GEM
A late maturing potato that requires a 140 to 150 day growing season to produce maximum yields and quality. Plants are vigorous, spreading and have an indeterminate type of growths. Tubers are large, long and cylindrical or slightly flattened with russeted skin. The eyes are shallow and the flesh is white. It is a good long-term storage potato for processing and tablestock.
Package Options
We pack our potatoes in various packages such as; poly bags 3, 5, 10, 15, 20lbs; paper bags 10, 20, 50lbs; bulk tote bags for repack; and 50lbs count cartons ranging from 50 to 120 count. Our packing facility is designed to operate very efficiently and we are very versatile in our approach to meet customers' requirements. Toner Farms Ltd. had its own label: The Toner Brand. We pack our potatoes in our own label as well as different labels specified by our customers.